Attractive Gift Hampers to Surprise Your Loved Ones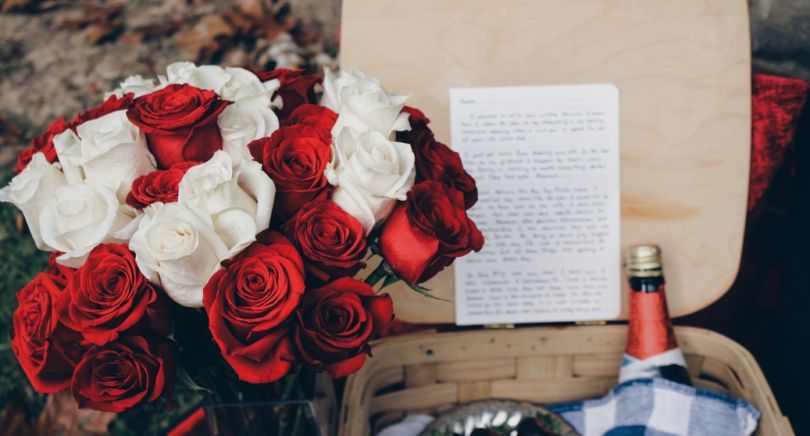 A good sign of friendship is when you give or exchange gifts with your friends. When this amusing word shows up in the real world, it brightens everyone's mood. Giving or receiving a gift from family, friends, or a special someone brings you true joy. Whether in the form of cash or a gift hamper, giving is a powerful way of spreading joy and goodwill.
Gifts have long been a wonderful way to express gratitude and affection to the people in your life. During the holidays and the festive season, it is essential to continue the habit of spreading love and positivity. It's not always as simple as you think to find the perfect gift, and that's where the tone shifts. Because of this, many stores, both online and shops, offer quality gift hampers that you can purchase for your loved ones if you're short on time. Give someone you care about one of these hearty gift hampers from Gourmet Basket, The Hamper Emporium, Goldelucks, and Yellow Octopus.
WEDDING/ENGAGEMENT ANNIVERSARY GIFT HAMPER
If you're looking for a way to show your loved one how much you care on their anniversary, this is the perfect gift.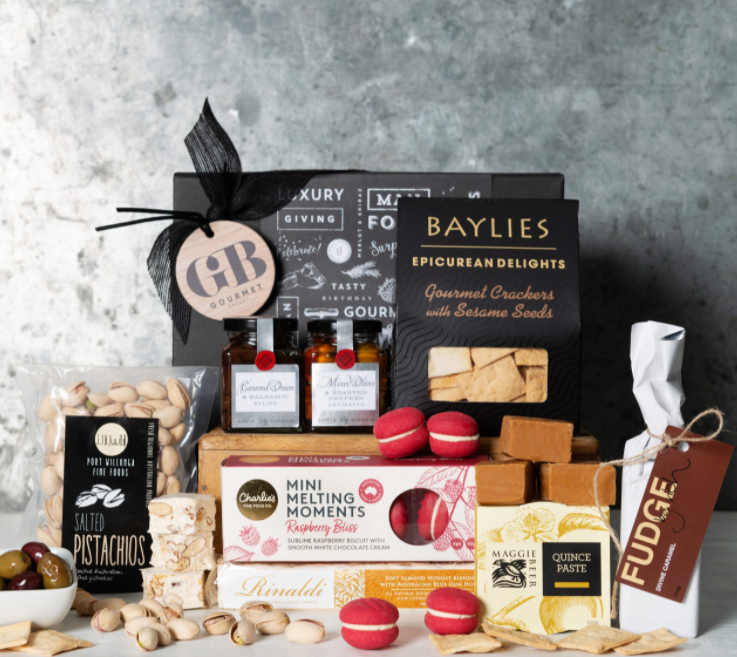 Boxed Treats is just one of Gourmet Basket's many golden gift hampers. With their gift baskets, they enhance the gift-giving experience by bringing together all of life's little pleasures into one beautiful package. Taking care of yourself and your loved ones is a privilege. Whether you're looking for a festive gift basket to celebrate a special occasion or a thoughtful token to show how much you care, their selection has you covered. Make the recipient of this hamper feel appreciated, loved, and connected to the giver even before they open the package. Make your loved ones feel special by gifting them Gourmet Basket's Boxed Treats. Shop here.
NEW BABY GIFT HAMPER
When it comes to new babies, whether boys or girls, there is nothing cuter and more beautiful than them. A newborn infant is, in and of itself, a priceless gift from the God of the universe.
1. Baby Girl Gift Hamper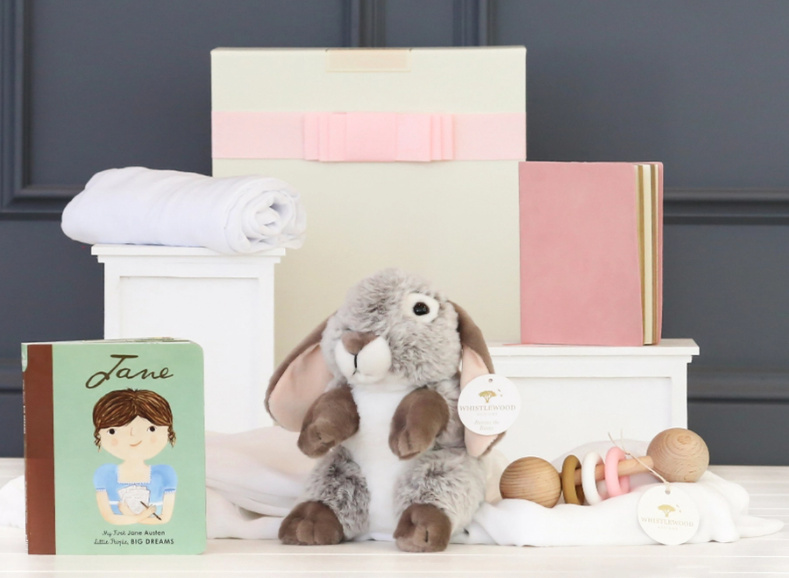 Welcome your baby girl into the world with this beautiful gift hamper full of treats for her to enjoy as she grows. This gift, which includes a children's book about literary heroine Jane Austen, is an excellent way to get your child interested in stories and it is a great way to build her story time habit. In addition, she will receive a bamboo muslin wrap, a natural beechwood rattle, and a plush bunny as a new best friend. Her parents will be presented with a beautiful gold-lined notebook in which to record all of their daughter's memorable milestones. A wonderful gift for announcing pregnancy, baby showers, births, and christenings. Buy now and get The Hamper Emporium Sweet Bundle Baby Girl Hamper delivered for free! Australia-wide.
2. Baby Boy Gift Hamper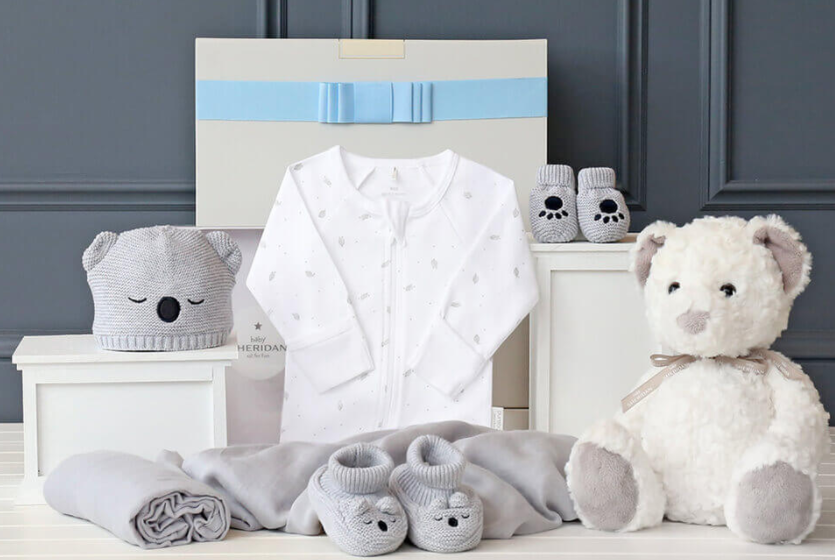 This luxurious gift hamper is a wonderful way to welcome a new baby boy into the world. It's a truly thoughtful gesture, filled with exquisitely crafted goods from Sheridan, organic babywear from Pure Baby, and the cutest keepsake teddy ever made. A great gift for pregnancy announcements, baby showers, births and christenings as well. Grab now and receive a free delivery of The Hamper Emporium Sheridan Baby Boy Snuggles Hamper! Across Australia.
SPECIAL OCCASION GIFT HAMPER
Give the gift of luxury to someone special with this assortment of ruby honeycomb chocolate, gourmet butter biscuits, tea, and raspberry chocolates. When they open the package, a confetti bomb awaits them. You can use this box to shower your loved ones with confetti of love.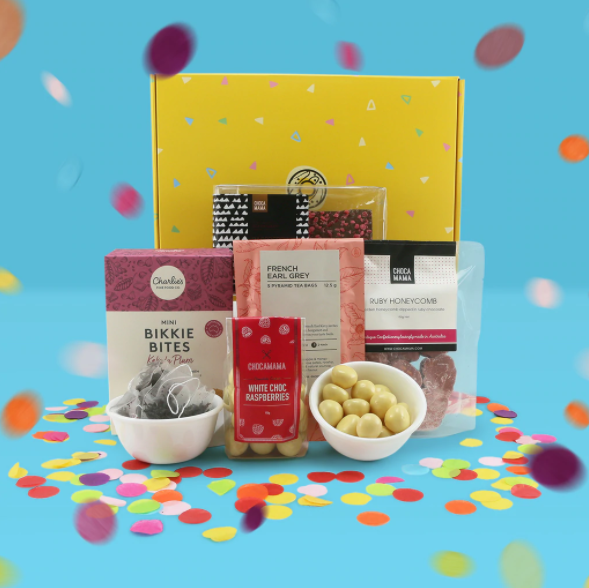 You can't get enough of it. They'll be overjoyed if you send them a basket full of this kind of delectable fare. Add a 750ml bottle of Chandon, Moet, Shiraz, or Rosé to the gift box if you want to take it to the next level. Other options for extras include balloons, cards, chocolates, and a slew of other things. For a birthday, anniversary, or celebrating occasion, this is a wonderful gift. Click here to shop the Goldelucks Berry Chocolate Confetti Hamper and spoil your loved ones.
SCIENTIST BUDDY GIFT HAMPER
Attention, aspiring scientists! The Yellow Octopus Science Lab Gift Hamper is perfect for a friend who loves to experiment. You get Handiscope, Volcano Kit and High Bounce Ball plus Scented Metallic Slime, Milk Chocolate Freckles and Berry Crunch Fairy Floss. Slime experiments are always fun! With the Atomic Slime Lab, your child can experiment with metallic slime, glow slime, neon glitter slime, and atomic brain balls, to name a few! Try the Handiscope for more fun! This hand-held microscope uses ambient lighting and reflecting mirrors to provide magnification up to 30x without batteries. Exploration both indoors and out!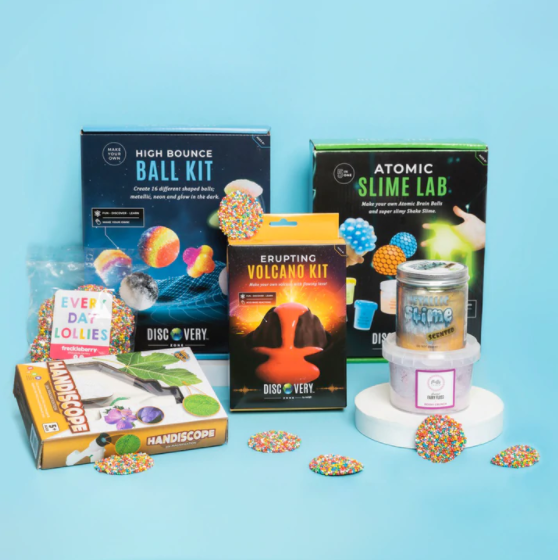 This science gift basket includes the Erupting Volcano Kit and the High Bounce Ball Kit. Your child will learn about the acid-based reaction that occurs when a volcano is created from scratch. What a wild time you'll have! The High Bounce Ball Kit has everything you need to make your own bouncing balls. Determining the shape and colours of your flower, football, or sphere! Are you slime-addicted? See the Scent Metallic Slime! It looks and smells like molten metal, but it's slime. A magical mix of gold and silver slime is a visual treat! After a long day of research, treat yourself to some sweets. The gift basket also includes freeze-dried strawberries and grape-flavored fairy floss. Yummy! Make a lasting impression on the young scientist in your life with this thoughtful gift basket. Grab now.