Top 7 Incredible day trips from Paris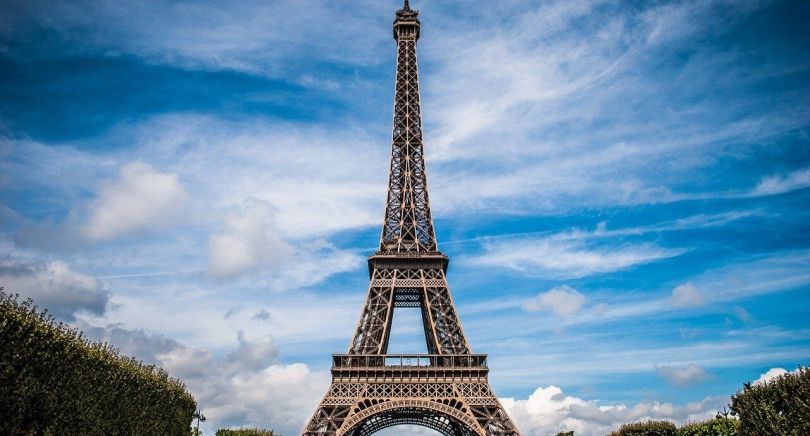 Visitors to Paris may find it difficult to consider venturing outside of the city due to the abundance of architectural icons, monumental museums, and unmissable dining experiences. Magnificent châteaux, exquisite gardens, mediaeval cathedrals, and rambling forests are all easily accessible from Paris, giving a visit to the French capital a new dimension.
Whether you want to walk in Monet's footsteps in Giverny, dine at a mediaeval banquet in Provins, or keep the kids entertained at Disneyland, here are seven of the best day-trip destinations within an hour or so of central Paris.
Top 7 Day Trips From Paris
1. Giverny
Between April and October, when the key sights are open and the gardens are in bloom, a visit to Giverny is a must. Impressionist Claude Monet lived in the small village from 1883 until his death in 1926. The Maison et Jardins de Claude Monet includes his Japanese bridge and water lily pond, as well as a rose-pink, green-shuttered house and the flowering gardens he planted and painted. On the eastern side of Giverny's L'église Ste-Radegonde, you can also pay a visit to the painter's tombstone.
Visit the Musée des Impressionnismes Giverny for more artistic pursuits, which offers a comprehensive overview of everything related to the Impressionist movement, as well as regular lectures, readings, and concerts. Have you piqued your interest yet? It's an enchanting Michelin-starred inn. La Capucine Giverny serves classic Italian dishes in a beautiful garden setting, while Le Jardin des Plumes serves sublime modern French cuisine (almost like works of art).
Getting to Giverny:
Giverny is 74 kilometres northwest of Paris, and it takes about 1 hour and 30 minutes to drive there. Trains run from the Gare St-Lazare in Paris to Vernon, 7 kilometres west of Giverny (45 minutes to one hour, up to 15 daily). Shuttle buses run between Vernon and Giverny during the summer; otherwise, you can walk, cycle, or take a taxi.
2. Versailles
Strolling through the lavishly adorned 700-room baroque palace Château de Versailles, which was transformed from a hunting lodge by Louis XIV in the mid-17th century and served as the seat of the royal court until 1789, allows you to get a firsthand understanding of the French monarchy's disproportionate wealth and power, which sparked the French Revolution (which ultimately led to the then-king, Louis XVI, being unceremoniously guillotined in the French capital).
Two of the most striking features are the opulent Grands Appartements du Roi et de la Reine (King's and Queen's State Apartments) and the 75-meter-long ballroom Galerie des Glaces (Hall of Mirrors), which has 17 massive mirrors facing 17 windows facing the setting sun. Outside, visitors can stroll through the lovely Château de Versailles Gardens & Park, which features geometrically aligned terraces, 300 or so statues, and summertime fountains that 'dance' to classical music. One of the estate's drinking and dining options is the elegant, palace-housed Ore, while budget travellers can find cheaper options in the nearby town of Versailles, such as the charming cafe La Cour near Versailles' markets.
What is the best way to get to Versailles?
Versailles is only 22 kilometres southwest of central Paris and is best reached by train: from Paris' Left Bank RER stations, take the RER C to Versailles-Château–Rive Gauche station (journey time: 40 minutes). By car, however, the journey takes about 45 minutes.
3. Disneyland Paris
While most visitors will enjoy marvelling at relics and palaces from the mediaeval Kingdom of France, if you're travelling with children, it's safe to assume that the 'kingdom' they're most excited to see is the home of Mickey and Minnie and their ilk. Disneyland Park is part of the massive Disneyland Paris complex, and it consists of five themed 'lands' that include all of the classic sights (Sleeping Beauty's Castle, turn-of-the-century Main Street USA), iconic rides (Pirates of the Caribbean, Big Thunder Mountain...), and larger-than-life characters.
The Walt Disney Studios Park, which is adjacent to Disneyland Park, includes high-tech rides such as the Twilight Zone Tower of Terror and the delightful Ratatouille, as well as cinemas, sound stages, and behind-the-scenes tours. Deals abound, including multi-park tickets, so do your research and book ahead of time.
The following directions will take you to Disneyland Paris
It takes about 40 minutes to drive to Disneyland Paris, which is 32 kilometres east of Paris. Between central Paris and Marne-la-Vallée/Chessy, RER A trains run frequently (journey time: 40 minutes to one hour).
4. Chantilly and Senlis
The fairy-tale Château de Chantilly is surrounded by magnificent gardens and rises from a shimmering lake. You can see priceless paintings and try the famous crème Chantilly (sugar-whipped cream), which was invented here, at the Musée Condé. The Grandes Écuries' Hippodrome (horse-racing track) and stables, which house the Musée Vivant du Cheval, which has riding-equipment displays and also mounts dressage shows, are perhaps best known for their hippodrome (horse-racing track) and stables. The Forêt de Chantilly, a forested former royal hunting estate, has riding and walking trails that branch out from here.
Regular buses run every 25 minutes from Chantilly to mediaeval Senlis, which rewards an afternoon stroll with its narrow cobblestone streets, Gallo-Roman ramparts, and towers. The Gothic Cathédrale de Notre Dame, which was completed in 1191 and still has its original stained glass and intricate stone-carved portal, crowns Senlis, a royal seat from the 5th to the early 17th centuries. Le Scaramouche, across from the cathedral, serves cutting-edge bistro cuisine with ringside views from its terrace.
What is the best way to get to Chantilly?
It takes an hour to drive from Paris to Chantilly, which is 50 kilometres north of Paris. TER train services (direction Creil) connect Paris' Gare du Nord and Chantilly-Gouvieux train stations (journey time: 25 minutes).
5. Provins
The walled town of Provins has been designated as the 'Town of Medieval Fairs' by Unesco, and it certainly succeeds in transporting you back to the Middle Ages (though, thankfully, minus the stink, plague and squalor). Among the town's over 150 mediaeval structures are the Tour César, the Church of Saint Quiriace, and the Grange aux Dîmes, where you can watch a live re-enactment of a mediaeval market. The town's ramparts, fortified gates, and more than 10 kilometres of underground tunnels are among the other attractions.
The medieval-themed shows, on the other hand, are the most effective at bringing the period to life, making Provins an ideal day trip from Paris for families. Between April and November, there are regular displays of falconry, horsemanship, and mediaeval warfare (including trebuchets and jousting), as well as a weekly banquet on Saturday where you can eat mediaeval food while being entertained by troubadours, acrobats, and jugglers.
Getting to Provins:
Provins is located one hour and twenty minutes southeast of Paris. Take the P line from Gare de l'Est to Provins and get off there (journey time: one hour 20 minutes).
6. Fontainebleau
On its sandstone ridges and plunging gorges, the 280-square-kilometer Forêt de Fontainebleau, which surrounds the elegant town of Fontainebleau, is an outdoor paradise with walking and cycling trails (including mountain-biking tracks) as well as rock climbing. Fontainebleau's most impressive human-made site is the château, which sprawls over 1900 elaborately gilded, frescoed rooms amid formal French and free-flowing English-style gardens. The original château was built in the early 12th century, but it was completely rebuilt by successive monarchs, most notably François I in the 16th century, who gave it a Renaissance makeover.
Fontainebleau also has a number of lively local bistros, such as Le Bistrot 9, as well as gastronomic restaurants, such as La Table du Parc, which focuses on terroir.
Dardonville's wonderful pâtisserie (pastry shop) or the bustling town market, which is open Tuesdays, Fridays, and Sundays, are great places to get supplies for a forest picnic.
How to Get to Fontainebleau:
Fontainebleau is located 68 kilometres southeast of Paris and takes approximately 1 hour and 20 minutes to reach. The Paris Gare de Lyon station is linked to the Fontainebleau-Avon Gare de Fontainebleau-Avon station (40 minutes, up to 40 daily).
7. Chartres
The Cathédrale Notre Dame de Chartres, built in the 13th century, is France's best-preserved mediaeval cathedral. It is known for its 176 luminescent, deep-blue stained-glass windows, which are topped by Romanesque and Gothic steeples. It was constructed on the site of a Romanesque cathedral that was nearly destroyed in the 1194 Chartres fire. The striking structure also houses several sacred relics, including the Sainte Voile (Holy Veil), which is said to have been worn by the Virgin Mary during Jesus' birth.
Nearby, the Centre International du Vitrail teaches about stained glass in a half-timbered former granary, and the Musée des Beaux-Arts displays a fine-arts collection in the 18th-century Palais Épiscopal (Bishop's Palace). From Chartres' cathedral to the Eure river's western channel, steep streets lined with mediaeval houses descend. The regional menus at Le Saint-Hilaire, a peppermint-green-painted restaurant adjacent to a narrow bridge, are a local favourite. In the newer part of town, the iron-canopied market is surrounded by bistros (Wednesdays and Saturdays).
To Get to Chartres, take the following route:
Chartres is located 91 kilometres southwest of Paris and takes approximately one hour and 30 minutes to drive to. Between Paris' Montparnasse Vaugirard and Chartres' train station, TER trains run frequently (journey time: one hour 15 minutes).