The Best Outdoor Furniture for Style and Comfort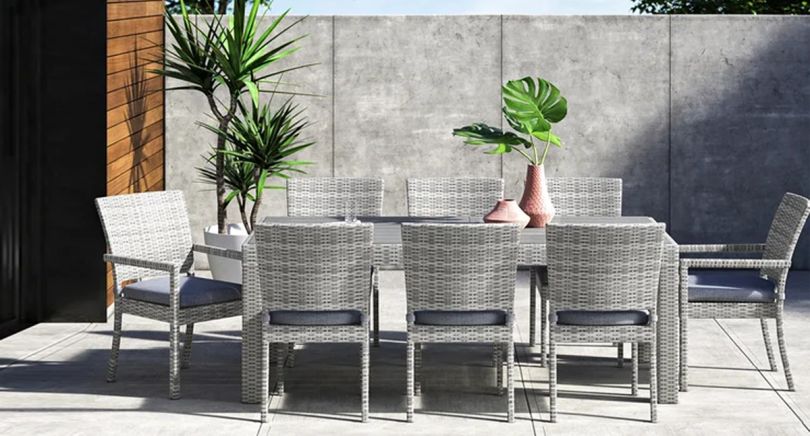 A garden is incomplete without the right furniture pieces. It is one of the most beautiful spaces in a house to enjoy the fresh air. It is because breathing gets better freely if you have a comfortable place to sit and relax.
My patio space reminds me of peace and freshness every day. Thanks to the outdoor furniture I recently purchased from Wayfair. The brand has added charm to different corners of my garden. From the stylish dining set to the unique patio porch swing, furniture pieces have added value to my space.
More than half of the year has passed by. If you have not been productive yet, invest in your home. Spend a few savings on decorating your outdoors before the year goes without giving you any memories.
What to Buy From Wayfair for Your Outdoors?
Every year, I spend little savings on decorating my home. It makes my house look fresh and trendy. My most recent purchase from Wayfair helps me create my dream garden.
Here is a beautiful piece of furniture that you can buy for your outdoors too.
Albertien Rectangular 8 - Person 83'' Long Dining Set With Cushions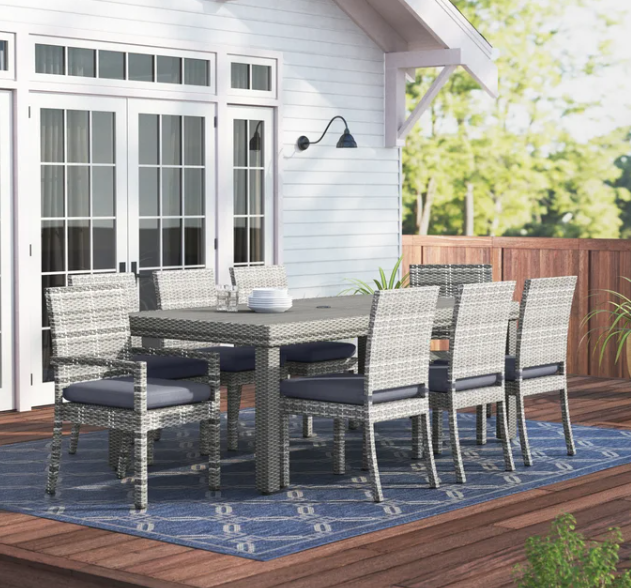 If you have ever liked the idea of eating in an open-air restaurant with your family, this dining set is your thing. I was more than happy with the arrival of this furniture set. Among its nine different color choices for cushions, my pick was the one with Sunbrella Moroccan Cream covers.
The best part about ordering online from Wayfair is the exact color they ship to your house. It required me a few family members to assemble this dining set in my garden. As all the assembly tools were already included, not much time was required. In the past few months, this dining set has never disappointed me in material and quality, and the guests love it too.
Its foam-filled cushions can be attached using ties. I often remove them to give my dining set a different Look. Also, its covers can be quickly changed or replaced as per your mood swings. Because they are weather resistant, moisture quickly drains out while adding to their durability. Its tabletop and chair frames are built in a 2-tone Gray color that adds a classic look to my patio. At first, I was afraid of its hand-woven finish, which may damage before Christmas.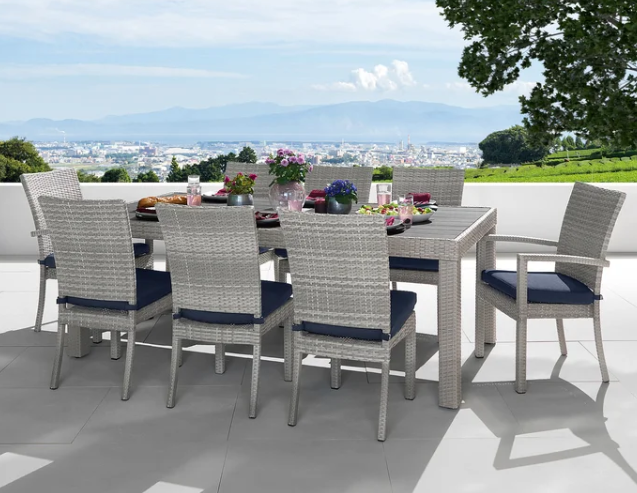 However, I am absolutely in love with its high-density polyethylene resin wicker as it can easily withstand the rough climate. By now, I am pretty sure this patio furniture will enhance my Christmas decorations sooner. With a couple of armchairs and six armless chairs, this dining set looks different when compared to conventional dining sets.
What's more about the product is it helpful umbrella hole. For an ideal look, I have added Sunbrella Moroccan cream shades to the table set. The overall look appeals to every guest and turns my outdoor space into a wonderful place. My recent experience with Wayfair as a home décor lover has given me a few reasons to recommend this product.
Why Recommend The Rectangular 8 - Person Dining Set?
Since its shipment, this 8 Person dining set brought no complaints. It can turn out to be more impressive as you are free to add an extra shade to this table set during the summers. From a variety of umbrellas, choose the one that suits your outdoor space.
Another reason to buy this product includes its quick-change cushion covers. You can install new covers in case of any upcoming festival and modernize the umbrella for more. Also, Wayfair brings an ideal selection of outdoor décor that you can add whenever you want. From stylish candles and candle holders to decorative pillows and lighting, buy all for your patio decorations.