Tips For Home Staging on a Budget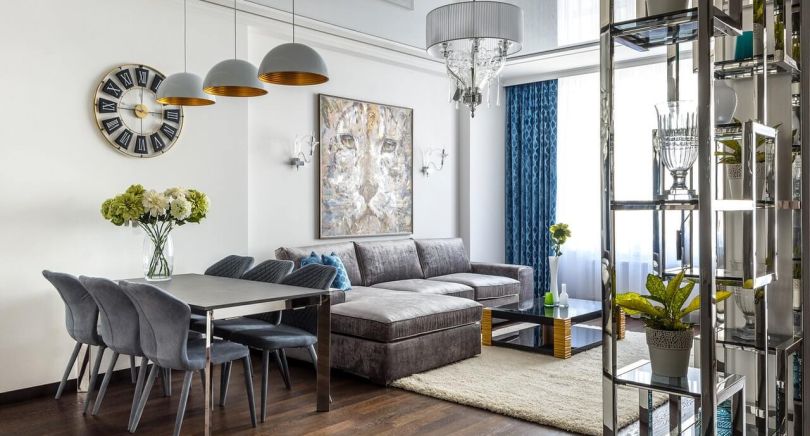 Before you put your house on the market, consider staging it to help it sell faster and for more money. Home staging, according to real estate agents, can even influence buyer interest in your property. You can always do some DIY home staging if you don't have the budget to hire a professional home stager. To learn more about how to style your home for sale, check out these 19 home staging tips!
Everything should be decluttered
Clutter can make a home feel small and cluttered, so less is more when staging a home. After they've been cleared out and staged, even small houses appear much larger.
Although decluttering may appear daunting at first, there are a variety of decluttering methods that can help make the process go more smoothly. Decluttering will also make it easier for you to pack and move when your house sells.
Make a cleaning list and stick to it
Giving your home a thorough cleaning is a cost-effective way to stage it. Sellers should go above and beyond standard cleaning tasks like vacuuming and dusting by scrubbing bathroom grout, soaking faucet heads in vinegar to remove limescale buildup, wiping down baseboards, and otherwise deep cleaning the house. The best part is that the materials you'll need are inexpensive. Of course, if you already have cleaning supplies on hand, you can complete this task without spending any money!
Keep flat surfaces free of clutter
Make an extra effort to keep shelves, countertops, desks, and tables mostly free of clutter. One of the most important professional home staging tips is to keep surfaces clear of clutter. Clean lines are a home staging staple, but a few decorations here and there are fine. The less stuff in the room, the larger and more organised it will appear. Simple decorations such as a vase of flowers, a bowl of potpourri, or a lamp should be kept on surfaces.
Neutral Colors on the Walls
Sometimes it's difficult for buyers to look past bold or dramatic paint colours. Repaint your walls a neutral colour like white, cream, beige, or light grey to appeal to the largest number of potential home buyers. Paint is inexpensive, and studies have shown that neutral paint jobs can generate a 107 percent return on investment for sellers. To put it another way, painting is an excellent budget-friendly option for home staging.
Allow natural light to enter
Bringing natural light into your home is free, and it can make all the difference when it comes to staging a home. In fact, professional home stagers and real estate photographers frequently advise removing or opening all window coverings to allow as much natural light as possible. For many buyers, well-lit rooms are a major selling point, and natural light can help make small spaces appear larger.
Selecting the Correct Light Bulbs
Natural light alone isn't always enough to keep your home bright, unless you're staging a home with several large windows in every room. Simply choosing the right light bulbs can make a big difference when staging a home on a budget. Replace fluorescent bulbs with soft white bulbs to mimic natural light, which is the type of incandescent light that most people are used to. You can also use "daylight" bulbs in kitchens, bathrooms, and home offices, which emit a refreshing blue hue.
Cabinets should be upgraded
Kitchen and bathroom cabinetry can make or break a home. Home stagers on a budget can transform existing cabinets with a fresh coat of paint and new hardware rather than replacing them entirely. Replace the old knobs with sleek fixtures and paint the cabinets to match the rest of the room. Right now, white cabinets, in particular, are very popular. If you don't want to spend money on new hardware, you can simply remove it and spray paint it to give your cabinets a new look.
New Thrift Decor
If you don't have enough home decor on hand to create the look you want for your sale, thrifting decor can help. Estate sales, garage sales, and even online marketplaces such as Etsy and Facebook Marketplace can lead to some fantastic finds. Also, look into local thrift stores. Even if you don't find anything on your first visit, thrift stores and antique stores regularly receive new stock. And, because you should only use a few pieces per room, you won't need to buy much!
Use the Rule of Three to arrange your decorations
Home stagers' insider tip is to group decor pieces in threes. For a put-together look, place a large, medium, and small piece of complementary decor next to each other on a coffee table or between the books on your bookshelf. This compositional rule is simple enough for anyone to follow and produces professional-looking results while reducing the amount of staging decor used. Pair a tall vase with two smaller candles, for example. Alternatively, place a stack of coffee table books alongside some fresh flowers and a small sculptural piece.
Consider Virtual Staging
You won't need to buy any furniture or decor to stage your property if it's already vacant. Virtual staging is one of the most cost-effective ways to stage an empty house. Artists can render virtual furniture into your home using photo editing to create photos of what the space could look like for potential buyers. The results are extremely realistic, and hiring someone to virtually stage your home for as little as $50 per photo is far less expensive than hiring a traditional stager.