Choose The Right Artwork For Your Living Room With These Tips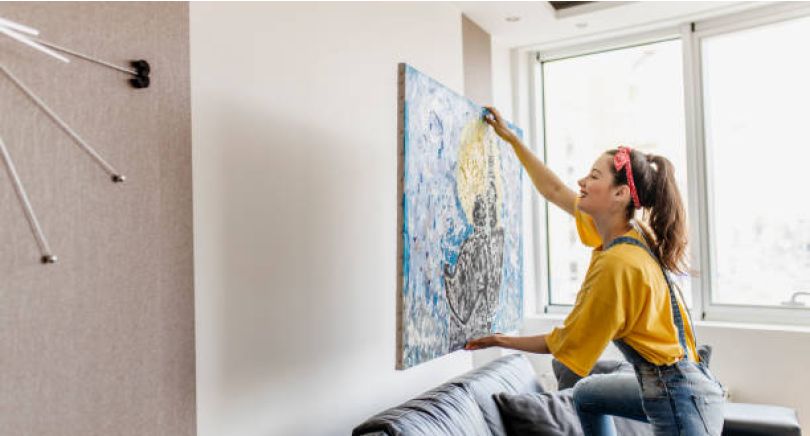 The living room is the heart of the home. It's the one common square on which all of the other squares of the home converge. Your living room's function, whether formal, informal, or semi-formal, is typically to mingle and interact. As a result, it's the one room in the house that demands a lot of art.
Here are five reasons why art should be a part of every living room:
1. It's a wonderful way to start a conversation: Art carries with it a wide range of perspectives and interpretations, making it an excellent discussion starter. How one analysis a work of art reveals a lot about one's worldview and life ideals. In fact, talking about art is a terrific method to figure out whether you're compatible.
2. It gives a room personality: It's the finishing touch to your living space. Its colours, or lack thereof, texture, definition, and personality give a room character and help it to come together as a whole. You may give your living space a contemporary, traditional, or fusion style depending on the art you pick.
3. It provides insight into your personality: Your choice of artwork will substantially define your personality, whether you are an animal lover or a nature enthusiast, a fun-loving person or a secretive one, have unmet goals or are a go-getter. So make your decision wisely!
4. Creates a nice complement: Artwork may be chosen to suit not just the living room's walls, but also its furnishings. A beautiful grey cloud patterned rug complements a monsoon-inspired painting well. A bright hand-painted cushion, for example, might look well next to a villager's painting or a black-and-white abstract. Art may be mixed and matched in a variety of ways, and it's a terrific way to start or finish your décor narrative.
5. Allows for experimentation: Art is the most adaptable medium of expression, and one may experiment with numerous mediums even within a single frame. Oils, watercolours, and mixed media are all excellent choices for living spaces. Because it is one of the larger rooms in the home, it is possible to play around with sizes, combinations, and panelling to tell tales via art.
It's critical to choose the correct artwork if you've decided to invest your time, effort, and money in art (a wise decision! ), and you understand how crucial it may be to provide that ideal finishing touch to your living space.
Here are some helpful hints for selecting artwork for your living room:
1. Decide On The Best Position:
Artwork should be placed in such a way that it adds value to the area rather than appearing to be a burden buried away in a corner. It must be visually accessible and have the appropriate amount of light. In addition, depending on the wall you want to show it on, you must determine the proper orientation.
2. Contrast Or Complement:
The artwork must either blend in with your décor and colour scheme or entirely contrast it in order to stand out.
A harsh black and white picture or a vivid orange and red painting, for example, can be used in a white-dominated environment. A space with a lot of pinks and purples, on the other hand, would not want to opt for a red piece of art.
3. Choose The Proper Size:
Just as an item that is too big or too little may make you seem ugly, an artwork that is the wrong size can detract from the room's and the artwork's beauty. Before you start out looking for artwork, it's a good idea to measure the proportions of your wall. It's also crucial to estimate the proportions of the furniture it'll be put above or around (a sofa or a console) and make sure the artwork doesn't take up more than 2/3 of the space.
4. Select Art That Reflects Your Personality:
As previously said, the art you select determines your identity and taste to a large extent.
As a result, it's ideal to choose a piece that represents who you are, what you believe in, and how you see the world. It might be a window into your ambitions, underlying motivations, or just something you are passionate about.