Spanx Skinny Jeans are my all-time favorite pair of jeans. These well-collected closet must-haves are incredibly comfortable (they feel like leggings! ), and the fact that they don't have button closures only adds to their appeal. One of our favorite things about Spanx jeans is that they can be dressed up with a beautiful piece of statement jewellery. Because Spanx jeans resemble regular denim so closely, you can wear them just like any other pair of jeans.
Although styling Spanx Jeans is simple, here are some tried-and-true tips for making any Spanx Jeans outfit extra special.
Wear it with a Unique Shoe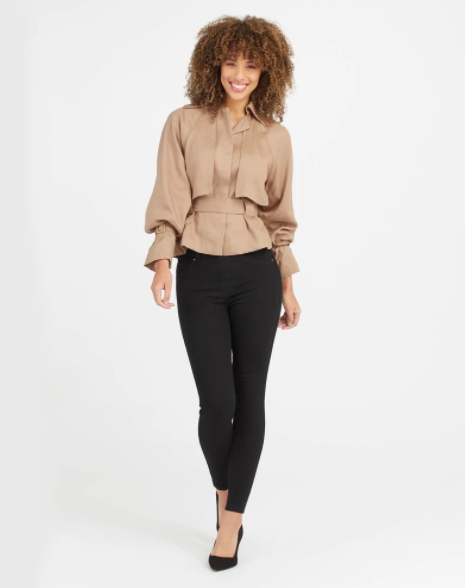 Because Spanx jeans are so comfortable, you may find yourself wearing them with your most comfortable, dressed-down shoes. Your outfit can be completely transformed by wearing a unique pair of shoes with your Spanx. Instead of wearing any old pair of flip flops, pair your Spanx jeans with a wedge sandal in the summer or a mule in the cooler months for a more sophisticated look. Pair these Black Spanx Jeans with Black Loafer Mules and a darling ruffle sleeve top front tucked for a timeless and simple look that works for any season. Click here to get this Spanx Black Jeans.
Dress Up or Down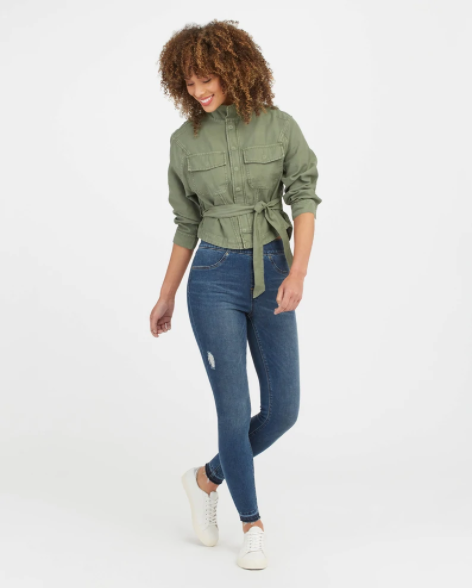 Another feature you'll appreciate about Spanx jeans is their versatility. Consider them a blank canvas for all of your closet's tops. This means you can dress your Spanx up or down depending on your mood. Sure, a sweatshirt and Spanx jeans are great for a casual day, but dressing them up with a dressier top can take your look to the next level.
Spanx jeans can be worn with a wide variety of tops. From a sweet top to a more casual shirt, there's something for everyone this spring and summer. You'll love pairing Spanx Blue Jeans with the Peplum Top and a perfect pop of color for an everyday look. Click here to purchase this Spanx Blue Jeans.
Cute Outfit with White Jeans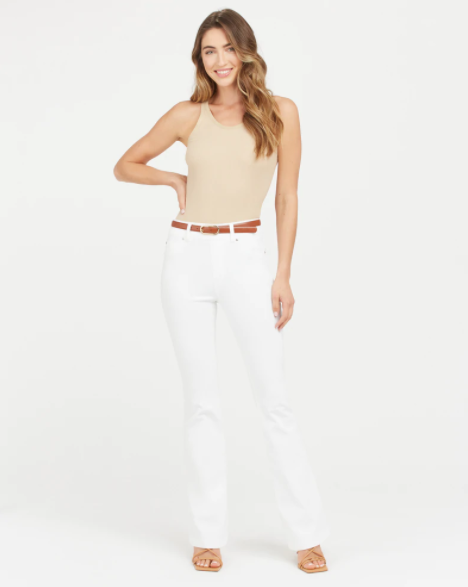 In our opinion, the best part about styling Spanx jeans is when you can dress them up! We love how comfortable they are and how well they go with so many different outfits. A pair of White Spanx jeans, for example, is ideal for putting together a cute outfit for a date night. Simply add a unique top, heels, and a show-stopping statement earring.
This go-to look is easy to put together but still looks great. We'd pair these White Spanx Skinny Jeans with Belt Loops with a lovely and feminine Eyelet Top, then dress it up with heels and gorgeous Structural Hoop Earrings for a warm weather dressed up look with Spanx jeans. Click here to buy Spanx White Jeans.
Try All Three Spanx Colors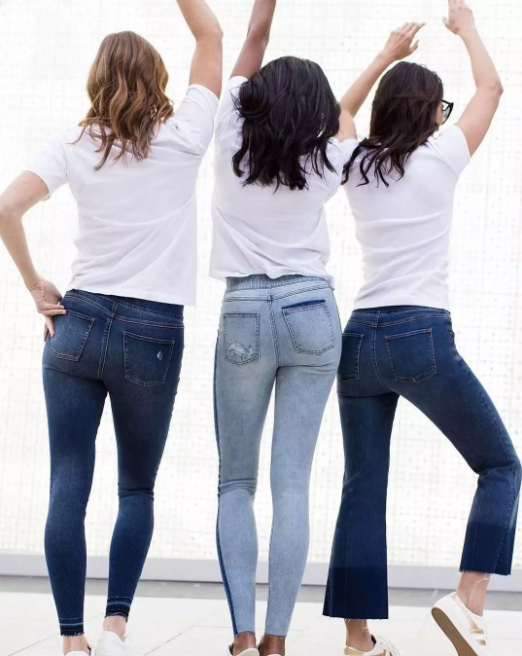 These jeans are so popular that we offer them in three different colors and with or without beltloops! There are options for every season and occasion, from dressier looks in Spanx black denim to the perfect denim rinse to a personal favorite in white. Have you tried a pair yet? There are some pieces that you simply cannot live without! To shop for your absolute favorites, click here.