A Petite Styling Box From Short Story
The premier personal styling service for petite women is Short Story. We're a group of petite women who know how difficult it can be to find clothes that fit properly. We help women 5'4" and under find new and exciting styles with incredible fit using our expertise in petite proportions. Our mission is to take the "ugh" out of shopping for millions of petite women, allowing them to dress with ease and confidence.
Simply put, Short Story assists you in locating clothing that fits properly. Because finding the right fit for petite women 5'4" and under is so difficult, we specialize in assisting them. Our clients are diverse in terms of shape, size, and proportion. We have something for everyone, whether you're a size 00P or an 18P.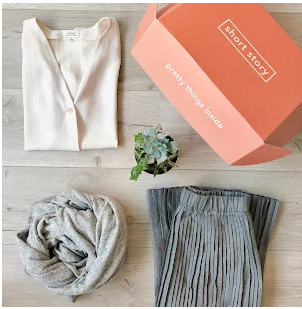 What's The Best Way To Get Started?
To begin, take the Style Quiz to determine your ideal fit. After that, we'll pair you with a personal stylist who will handpick pieces that suit your style, needs, and budget and mail them to you. Each box includes a carefully curated selection of clothing and accessories to try on at home. You keep what you want and send the rest back. Returns and shipping are always free.
What Can I Expect In Terms Of Items?
It is entirely up to you! You tell us what you're looking for (or give us some suggestions), and it appears at your doorstep. Tops, jeans, dresses, and more are available in a variety of styles. We have something for everyone, whether you're a working professional, a parent, a student, or a couch potato.
What Brands Should I Expect To Find In My Box?
We work with both well-known and emerging brands. We also created several petite lines that are only available at Short Story and were created with women like you in mind. It's part of the fun to assist you in discovering new brands that you'll enjoy. We like to keep your closet looking new.
How Much Will It Cost You?
The only upfront cost is a $25 styling fee, which is applied to any items you keep. The price of the box is determined by your budget. You tell us how much you're willing to pay when you fill out your Style Profile. Your stylist will send you items that fall within your budget.
How Is Shopping In A Store Or Online Different From Shopping With Short Story?
The Short Story experience is tailor-made for small people. Our petite stylists handpick items, especially for you. By shipping items directly to you, we save you a trip to the store. Our stylists will also save you time and effort when it comes to choosing clothing and accessories. You can tell us how frequently you'd like to receive a box, then sit back and relax.
So, How Does It Work?
1. Take A Style Quiz
This information assists your stylist in determining your size and style preferences, as well as your ideal price range.
2. Order Your Customized Box
Based on what you've told us, your stylist will curate your box. You'll be charged a $25 styling fee when your stylist chooses your items. The $25 will be applied to any items you keep from your box.
3. Put It On At Home And See How It Looks
Everything should be tried on! You never know what might look good or appeal to you. You have five days to choose what you want to keep.
4. Look It Up On The Internet
To check out, log into your account. Please provide us with feedback on your items! Let us know what you liked and didn't like, as well as why. This allows your stylist to get to know you better and send you more appropriate items in the future. If you've set up recurring shipments, we'll schedule the delivery date for your next shipment for you automatically. If necessary, you can choose an alternate date or cancel regularly scheduled shipments at any time.
5. Send Your Returns In The Mail
Use the prepaid shipping label to return anything you don't want. Both ways, shipping is free!